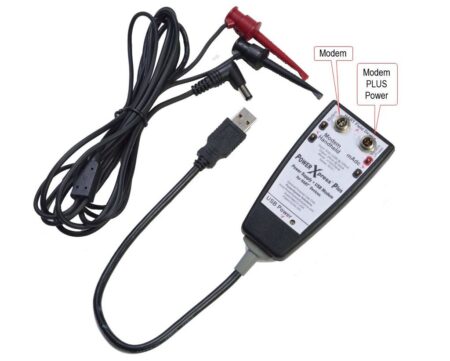 $

699.95
QUICKLY POWERS HART DEVICES
Configure a HART device with PowerXpress Plus
USB Power Supply Plus Built-in Modem – the all-in-one solution for fast, easy and reliable HART® device configuration. Ideal for field service, commissioning, engineering, training, table top shows, lunch and learns and demo cases! The PowerXpress® Plus USB Power Supply and HART modem is a complete and flexible PC communication link to HART networks and provides device power for commissioning, servicing, calibrating, or acquiring data from any HART instrument or transmitter. This external interface is compact and rugged for field use. Economical, easy-to-use, reliable, saves time and work smarter!
FEATURES
Works with all HART registered instruments
Powers all 2-wire HART devices
Powered from any USB 2.0 port
Works with 4-wire devices and smart valve positioners too (see FAQ tab above for details)
Milliamp quick connection
Power Indicator LED
Integral HART load resistor
3 modes of operation

power plus modem
modem only
power only

CE and ROHS compliant
Easy installation - device driver - see DOWNLOADS below
Easy and secure device connection using mini-grabbers
Made and Supported in USA
For Application, Hookup, Installation, Troubleshooting and Other useful information, visit the FAQ page at the tab above.
INCLUDES
USB HART Modem
24VDC device power supply
Internal HART load resistor
USB cable for USB Connection to your PC, Notebook or AC/USB Power Adapter (not supplied)
6-foot cable with color coded mini-grabbers
Internal current protection
CE and ROHS compliant
Quick Start Guide
Instruction Manual
BENEFITS
Cost effective – All In One – modem and power supply
Reduces device configuration and commissioning time
Increases communication reliability
Powers HART device using a USB connection or an AC/USB adapter (not included)
Simple external handheld and digital multimeter connections
Universal – Powers all 4-20mA, 2-wire HART devices
Standardizes and simplifies work processes
VIDEOS
DOWNLOADS
Quick Start Guide
PowerXpress Plus Datasheet
PowerXpress Plus Instruction Manual
PowerXpress Plus CE Declaration of Conformity
PowerXpress Plus Modem Driver and Installer for 64 bit system (recommended)
Delivery: Product ships within 3 – 5 business days after receipt of order and payment Model: H100USB-M PowerXpress Device Power Supply Plus Modem Product Made in USA
Add to cart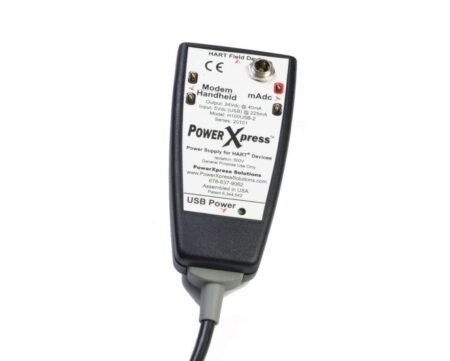 $

449.95
Quickly Powers HART Devices
The PowerXpress® is a complete and flexible power solution, that quickly delivers the required power to HART® devices and includes the required HART load resistor needed for device configuration and commissioning. PowerXpress reduces multiple device connections and simplifies the process for quick, easy, safe and reliable device communication. Works with your existing handheld or PC-based configuration software applications. Easy connection to your:
External HART Modem or Handheld Configurator

PC-based HART Device Configuration Software

mA meter / DMM (optional)
Power Source – PC USB port or AC/USB adapter (not included)
FEATURES
Completely portable when configuring devices with your laptop PC & configuration software
Provides power supply and load resistor for 2-wire HART device communication
Universal design works on all 2-wire HART devices
CE and ROHS Compliant
INCLUDES
24VDC device power supply
Internal HART load resistor
Milliamp quick connections
External handheld/modem/DMM quick connections
Power indicator LED
USB cable for PC Connection
6-foot cable with color coded mini-grabbers
Internal current protection
CE and ROHS compliant
Instruction Manual
BENEFITS
Cost effective and portable power supply
Reduces device configuration and commissioning time
Increases communication reliability
Powers HART device using a USB connection or an AC/USB power adapter (not included)
Simple external modem, handheld and digital multimeter connections
Universal – Powers all 4-20mA, 2-wire HART devices
FAST connection includes everything you need for reliable power
Standardizes and simplifies work processes
VIDEOS
DOWNLOADS
PowerXpress Datasheet
PowerXpress Instruction Manual
PowerXpress CE Declaration of Conformity
Delivery: Product ships within 3 – 5 business days after receipt of order and payment Model: H100USB-2 PowerXpress Device Power Supply
Add to cart